AuntJudys – toe sucking
Enjoy watching this beautiful milf sucking her tasty red toes. She feels lonely and needs some comfort. Being home alone she has plenty of time to play with her sexy body.  In this collection  is comforting herself touching her neck, sucking on her juicy fingers, touching her brests, playing with them. Her nipples get hard and the pussy is wet. In these galleries she plays with one hand on her tits, pushing them up and down and the other hand is touching her juicy pussy, rubbing with her fingers in slow motion increasing the speed faster and faster. She gets to lick her tits and sucking her yummy toes while masturbating.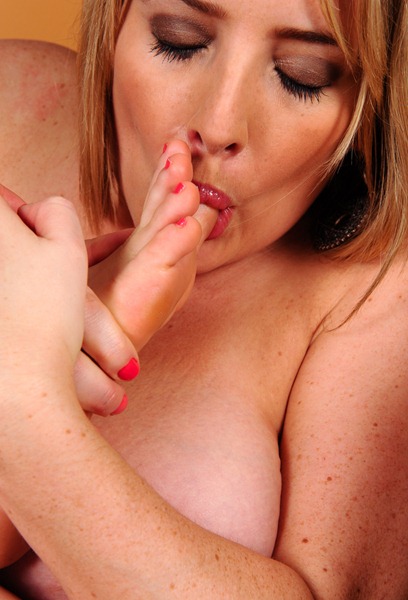 To be honest we were quite impressed with this babe as well. We didn't expect her to be as flexible as she was ourselves and imagine our surprised with her when this babe started to pull some very kinky and sexy moves in her little solo routine today. Watch her sucking and slurping on her yummy feet today, and see her as she she strikes some impressive naughty poses while she fingers her pink pussy afterwards. She sais that she gets some powerful orgasms each time that she fucks herself that way and she just loves it. Well we hope that you enjoyed her scene and we'll see you next week with some more sexy and fresh stuff!
Watch this kinky MILF sucking her yummy toes!